Restons encore un peu en Afrique du Sud grâce à DIESEL + EDUN, mais quittons un temps le Cap pour faire un tour à Jo'burg, plus précisément à Soweto, avec le réalisateur Sean Metelerkamp.  Révélé par un clip multi-récompensé pour Die Antwoord, il signe ici pour la plateforme créative Studio Africa un petit film qui met en scène une battle entre le collectif de danse Real Actions et un crew de puppets redoutables. Les vêtements de la ligne DIESEL + EDUN accompagnent à merveille les mouvements des danseurs de Pantsula, cette danse contestataire venue des townships, sur un titre exclusif et absolument obsédant signé The Very Best & Moroka.  Si, comme nous, vous en voulez encore, allez faire un tour sur la sphère en ligne Studio Africa.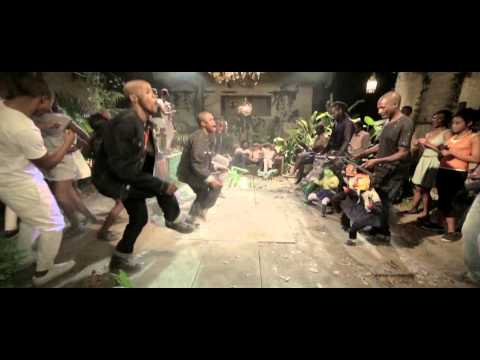 Let's stay in South Africa a little bit longer with DIESEL + EDUN, but let's leave Cape Town for a while and visit Jo'burg, or more precisely Soweto, with director Sean Metelerkamp. Brought to attention by a multi-awarded video for Die Antwoord, he now directs a short film for Studio Africa that depicts a battle between Real Actions dance collective and a crew of puppets formidable. A perfect marriage between DIESEL + EDUN clothing and Pantsula dance moves, this protest dance from the townships, on an exclusive and haunting track by The Very Best & Moroka. If, like us, you want to see more, go have a look at online sphere Studio Africa.
| | | |
| --- | --- | --- |
| | | |
Alors que notre numéro Cape Town est toujours en kiosques, la marque Diesel, en collaboration avec Edun, sort une ligne de denim née en Afrique. On vous en dira plus très vite sur le Studio Africa, en attendant on vous laisse découvrir en images les jeunes artistes, acteurs, photographes, musiciens qui personnifient l'Afrique créative. Et si vous ouvrer l'oeil, vous pourrez y reconnaitre notre cover boy Petite Noir.
While our Cape Town issue is still in stores, Diesel and Edun are releasing a « born in Africa » denim line. We will soon tell you more about Studio Africa, but for now, discover the young artists, actors, photographers, musicians who embody african creativity. And if you look closely, you might recognize our cover boy Petite Noir.
| | | |
| --- | --- | --- |
| | | |
Last week in Paris at Le Grand Palais, Saint Laurent showed its autumn winter 2013 men collection, a new line inspired by Californian grunge and lo-fi culture. Art director Hedi Slimane picked sunny cali's prodigal son Ty Segall to write an original soundtrack for the show, recorded in San Fransisco. And the californian connexion doesn't stop there: after picking Chris Owens (SF) and Beck (LA) as new faces of the maison, the brand will soon put out limited edition tee-shirts with LA artists like  collaborative drawing project Sumi Ink Club, painter and musician Jesse Spears, graphic designer Brian Roettinger or twins-band The Garden.  Now let Hedi welcome everybody to the wild wild west, and watch the show – with models from bands Egyptian Hip Hop, Swim Deep and Bos Angeles - after the jump :
| | | |
| --- | --- | --- |
| | | |
À l'occasion du lancement du nouvel appareil EOS M, CANON a invité cinq talents, la génération M, à se prêter au difficile exercice des grands classiques de la photographie : la nature morte, le portrait, le paysages, le reportage… Chacun mettant les capacités du compact numérique et son objectif interchangeable à son service pour la réalisation de leur projet. Ainsi le cinéaste et blogueur Clemens Poloczek nous balade en forêt avec sa DeLorean, Lily Vanilli nous donne l'eau à la bouche avec des gros plans sur ses pâtisseries, le scénographe Gary Card part à la recherche du portrait parfait, la blogueuse mode Andy Torres congèle des bijoux et notre favorite, Sophie Beresiner, rédactrice beauté chez Look magazine, qui nous emmène dans un spa immaculé afin de nous montrer à quel point photographier du make up peut devenir expérimental. À découvrir dans la vidéo qui suit :

Retrouvez toutes les infos et vidéos ici.
9 jours de concerts non-stop et plus de 40 artistes sur scène à travers la France, c'est comme ça que l'incontournable Festival Les InRocKs Volkswagen a décidé de souffler ses 25 bougies la semaine dernière. I HEART en a profité pour aller filmer tous ces lives et s'offrir des entrevues avec certains artistes de la programmation 2012, histoire de papoter et de leur laisser ouvrir leurs coeurs autour d'un café, dans leur loge ou les backstages, juste avant un concert ou entre deux répèt'. // 9 days of live shows and more than 40 bands on stage all over France, this is how the inevitable Festival Les InRocKs Volkswagen decided to celebrate its 25th birthday last week. I HEART took the opportunity to film all the gigs and talk to a few of the bands from the 2012 line up, a time to chat and let them open their hearts over coffee, in their dressing rooms or backstage, before a show or between two rehearsals.
keep looking »