Mode et cuisine, deux termes antinomiques qui ont pourtant en commun cette affaire de bon goût, la passion des associations audacieuses. Imaginé par un trio d'Italiennes aussi portées par les tiramisus que les robes Marni, le magazine Alla Carta mélange recettes gastros et éditos, des dégustations hautement mode sous les flashs qui crépitent, toujours en accord de couleurs et de saveurs. Interviewant gourmets ou couturiers au palais aiguisé, la revue croise ces deux arts dans une salade ingénieuse et goûteuse, sans jamais corrompre sa légèreté. Cuisine haute couture ou mode (de cuisson) tendance, on se demande si on ne va pas trouver un escarpin Louboutin dans une casserole, à ce rythme !
Photo : Yara De Nicola, stylist Fabiana Fierotti, set design Martina Lucatelli, texte : Camille Gayral
| | | |
| --- | --- | --- |
| | | |
Restons encore un peu en Afrique du Sud grâce à DIESEL + EDUN, mais quittons un temps le Cap pour faire un tour à Jo'burg, plus précisément à Soweto, avec le réalisateur Sean Metelerkamp.  Révélé par un clip multi-récompensé pour Die Antwoord, il signe ici pour la plateforme créative Studio Africa un petit film qui met en scène une battle entre le collectif de danse Real Actions et un crew de puppets redoutables. Les vêtements de la ligne DIESEL + EDUN accompagnent à merveille les mouvements des danseurs de Pantsula, cette danse contestataire venue des townships, sur un titre exclusif et absolument obsédant signé The Very Best & Moroka.  Si, comme nous, vous en voulez encore, allez faire un tour sur la sphère en ligne Studio Africa.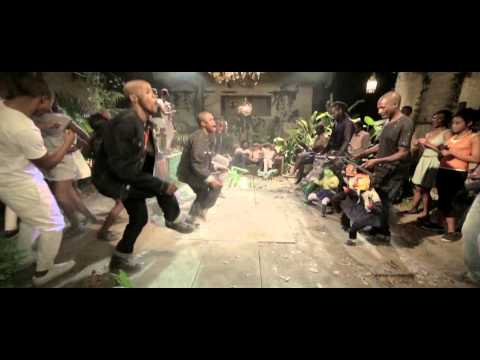 Let's stay in South Africa a little bit longer with DIESEL + EDUN, but let's leave Cape Town for a while and visit Jo'burg, or more precisely Soweto, with director Sean Metelerkamp. Brought to attention by a multi-awarded video for Die Antwoord, he now directs a short film for Studio Africa that depicts a battle between Real Actions dance collective and a crew of puppets formidable. A perfect marriage between DIESEL + EDUN clothing and Pantsula dance moves, this protest dance from the townships, on an exclusive and haunting track by The Very Best & Moroka. If, like us, you want to see more, go have a look at online sphere Studio Africa.
| | | |
| --- | --- | --- |
| | | |
Alors que notre numéro Cape Town est toujours en kiosques, la marque Diesel, en collaboration avec Edun, sort une ligne de denim née en Afrique. On vous en dira plus très vite sur le Studio Africa, en attendant on vous laisse découvrir en images les jeunes artistes, acteurs, photographes, musiciens qui personnifient l'Afrique créative. Et si vous ouvrer l'oeil, vous pourrez y reconnaitre notre cover boy Petite Noir.
While our Cape Town issue is still in stores, Diesel and Edun are releasing a « born in Africa » denim line. We will soon tell you more about Studio Africa, but for now, discover the young artists, actors, photographers, musicians who embody african creativity. And if you look closely, you might recognize our cover boy Petite Noir.
| | | |
| --- | --- | --- |
| | | |
Le gros copain des enfants devient celui des plus grands. La marque danoise Soulland s'offre Babar pour sa nouvelle collection capsule qui sortira au printemps prochain. À l'occasion des 80 ans du célèbre  éléphant, Silas Adler, créateur de la griffe et représentant de la hype venue du froid, introduira Babar en bonne et due forme dans le monde de la mode pour la première fois à travers une ligne pour homme composée de tee-shirts, chemises, shorts et sweat au motifs rétro enfantins de Jean De Brunoff. Et quand Babar se taille un costume c'est chez les branchés qu'il le fait puisque la collaboration aura sa vitrine dédiée et sera distribuée en exclusivité chez Colette du 1er au 6 avril, puis passera par New-York et LA chez Opening Ceremony ou encore à Bruxelles chez Hunting & Collecting.
Children's big buddy becomes friends with adults.  Danish brand Soulland got Babar for its new capsule collection which will be released next spring. For the 80th anniversary of the famous elephant, Silas Adler, designer of the brand and « hype from the cold » representative, introduces properly Babar in the fashion world for the first time through a men's line  composed with t-shirts, shorts and sweaters printed with childish retro motifs drawn by Jean De Brunoff.  When Babar suits up, he does it as a hipster as the collaboration will have its own dedicated window and will be distributed exclusively at Colette from April 1 to 6, and then stopping by  New York and LA at Opening Ceremony or in Brussels at Hunting & Collecting.
| | | |
| --- | --- | --- |
| | | |
Last week in Paris at Le Grand Palais, Saint Laurent showed its autumn winter 2013 men collection, a new line inspired by Californian grunge and lo-fi culture. Art director Hedi Slimane picked sunny cali's prodigal son Ty Segall to write an original soundtrack for the show, recorded in San Fransisco. And the californian connexion doesn't stop there: after picking Chris Owens (SF) and Beck (LA) as new faces of the maison, the brand will soon put out limited edition tee-shirts with LA artists like  collaborative drawing project Sumi Ink Club, painter and musician Jesse Spears, graphic designer Brian Roettinger or twins-band The Garden.  Now let Hedi welcome everybody to the wild wild west, and watch the show – with models from bands Egyptian Hip Hop, Swim Deep and Bos Angeles - after the jump :
keep looking »