Le gros copain des enfants devient celui des plus grands. La marque danoise Soulland s'offre Babar pour sa nouvelle collection capsule qui sortira au printemps prochain. À l'occasion des 80 ans du célèbre  éléphant, Silas Adler, créateur de la griffe et représentant de la hype venue du froid, introduira Babar en bonne et due forme dans le monde de la mode pour la première fois à travers une ligne pour homme composée de tee-shirts, chemises, shorts et sweat au motifs rétro enfantins de Jean De Brunoff. Et quand Babar se taille un costume c'est chez les branchés qu'il le fait puisque la collaboration aura sa vitrine dédiée et sera distribuée en exclusivité chez Colette du 1er au 6 avril, puis passera par New-York et LA chez Opening Ceremony ou encore à Bruxelles chez Hunting & Collecting.
Children's big buddy becomes friends with adults.  Danish brand Soulland got Babar for its new capsule collection which will be released next spring. For the 80th anniversary of the famous elephant, Silas Adler, designer of the brand and « hype from the cold » representative, introduces properly Babar in the fashion world for the first time through a men's line  composed with t-shirts, shorts and sweaters printed with childish retro motifs drawn by Jean De Brunoff.  When Babar suits up, he does it as a hipster as the collaboration will have its own dedicated window and will be distributed exclusively at Colette from April 1 to 6, and then stopping by  New York and LA at Opening Ceremony or in Brussels at Hunting & Collecting.
| | | |
| --- | --- | --- |
| | | |
La pop aérienne de DIIV s'invite au Nouveau Casino le 3 décembre. Le projet solo de Zachary Cole Smith du groupe Beach Fossils, récemment signé chez Captured Tracks, label New-Yorkais réputé pour trouver des pépites, viendra présenter lundi soir son premier album Oshin. On retrouvera aussi à la batterie, le jeune Colby Hewitt, rencontré avec les Smith Westerns lors de notre passage à Austin en 2010. Une bien jolie bande de talentueux garçons donc.
Concours : I HEART offre des places aux premiers à envoyer « DIIV » + nom et prénom à concours@iheart-magazine.com.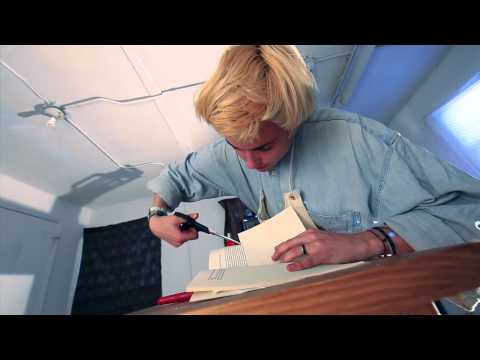 Billetterie et infos sur l'événement ici.
9 jours de concerts non-stop et plus de 40 artistes sur scène à travers la France, c'est comme ça que l'incontournable Festival Les InRocKs Volkswagen a décidé de souffler ses 25 bougies la semaine dernière. I HEART en a profité pour aller filmer tous ces lives et s'offrir des entrevues avec certains artistes de la programmation 2012, histoire de papoter et de leur laisser ouvrir leurs coeurs autour d'un café, dans leur loge ou les backstages, juste avant un concert ou entre deux répèt'. // 9 days of live shows and more than 40 bands on stage all over France, this is how the inevitable Festival Les InRocKs Volkswagen decided to celebrate its 25th birthday last week. I HEART took the opportunity to film all the gigs and talk to a few of the bands from the 2012 line up, a time to chat and let them open their hearts over coffee, in their dressing rooms or backstage, before a show or between two rehearsals.
| | | |
| --- | --- | --- |
| | | |
Le week-end dernier, I HEART s'est rendu à la version française du Pitchfork festival. La grande halle de la Villette nous a accueilli, toute de lampions vêtue, pour 3 jours et nuits de musique, de pause pipi, de rdv au stand Heineken et de dégustations gastronomiques de festival food. On a donc enchainé les aller-retours entre les deux scènes de l'impressionnant hangar pour aller remuer nos converses sur DIIV, Japandroids et The Tallest Man On Earth, nous prosterner devant le Pépito bleu de Sébastien Tellier ou la performance 100% vitamine C de Robyn, et bouger très vite nos épaules sur Disclosure, Tottaly Enormous Extinct Dinosaure , Fuck Buttons et puis un peu plus lentement au son d'Animal Collective ou encore Grizzly Bear. On en est revenus un peu sourds, avec 2 kilos de burgers et hot dogs dans le ventre mais surtout les appareils chargés de photos :
Last weekend, I HEART visited the French version of Pitchfork festival. La grande halle de la Villette welcomed us, all dressed up with lanterns, for three days and nights of music, pipi breaks, meeting points at the Heineken bar and delicate festival food tasting. We went  back and forth between the two scenes of the impressive warehouse to go shake our feet to the sounds of DIIV, Japandroids and The Tallest Man On Earth, we worshiped Sébastien Tellier's « Pépito bleu » and the 100% Vitamin C infused performance of Robyn and move our shoulders quickly with Disclosure, Tottaly Enormous Extinct Dinosaure , Fuck Buttons, and then slower to the sound of Animal Collective or Grizzly Bear. We came back a little deaf, with 4 pounds of burgers and hot dogs in the stomach but also with cameras loaded with photos:
| | | |
| --- | --- | --- |
| | | |
le designer Alexander Wang, maître du minimal chic américain a choisi la sexy Azealia Banks pour sa nouvelle campagne video. Les deux kids de New York se sont retrouvés pour un clip rempli d'énergie dans lequel la rappeuse se défoule. On se réjouit surtout qu'elle ait enfin trouvé un style vestimentaire ultra graphique qui la rend encore plus bombesque.  »Bang, pop, pop, this thing go pow » comme elle le chante. /// Designer Alexander Wang, american master of minimal chic, chose sexy Azealia Banks for his new video campaign. The two New York kids got together for a clip full of energy in which the rapper lets off some steam. We're glad she has finally found an ultra graphic style which makes her even more sensual.  »Bang, pop, pop, this thing go pow » as she sings.
keep looking »